Chimney Sweeping
Chimney sweeping and inspecting is probably the most important thing that we do. Think about it, you are literally starting a fire in the middle of your home. The national fire protection association (NFPA) recommends that a fireplace be inspected annually. This does not always mean that the chimney will need to be cleaned, however, doing a thorough inspection of the fireplace and chimney help give you the peace of mind using the most dangerous part of your home.
The Chimney Sweeping Process
The technician will greet you at the door and go over some questions to help him better understand the history and use of your fireplace. This is a great time to voice any concerns you may have with your fireplace.


The technician will then do a visual inspection of the fireplace and flue system to determine whether the chimney needs cleaning or not.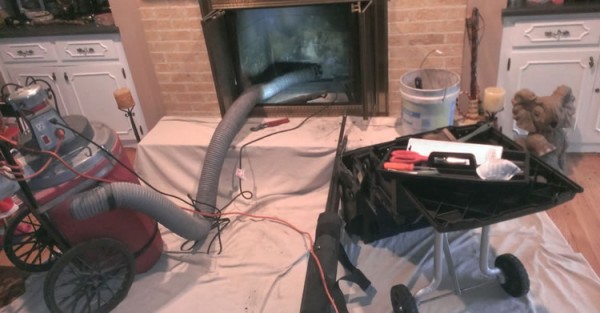 If he determines that it will need a cleaning (1/8" or more of creosote visible in the flue system) He will begin to set up for the cleaning and inspection process. This will include bringing in the following:
2 large canvas tarps, 1st one is ultra-clean to be placed on your floor and the second is the one that will come in contact with the messiness that comes out of the chimney. (if there is unmovable furniture near the fireplace we will cover this as well)

3 stage HEPA filter vacuum.

Cleaning rod caddy

Rolling toolbox or tool backpack

And Video scanning equipment
Our cleaning process has come a long way since the days of just running a brush up and down the flue. We now incorporate a drill and wipe head system. This gives a significantly more thorough cleaning and allows our technicians to do most cleanings safely from the fireplace opening rather than at the top of the chimney.
After the system has been clean and all creosote has been removed from the fireplace, we will begin the inspection process. In this process we will be checking the following items:
Clearance to Combustibles

Firebox

Damper

Smokeshelf

Smoke Chamber Video Scanned

Flue Tiles Video Scanned
The technician will finish up the process with an inspection of the exterior of the chimney.


He will go over all of his findings with you and give you any recommendations he may have for better burning practices or necessary repairs.


The technician will collect payment for the services via check or credit card and you will get a digital copy of your receipt and paperwork emailed to you immediately following the appointment.